Ramot Naftaly Winery
The winery was established in 2003, is located in the Upper Galilee in Moshav Ramot Naftaly from which it derives its name and produces about 10,000 bottles per year and plans to grow. The wines are kosher since the 2009 vintage.
Yitzhak Cohen, the winemaker started as a farmer and administrator of agriculture cooperatives of the region and moved on to winemaking by experimenting and learning winemaking in Israel. His excellent skills and high quality wine is evidence of the advanced winemaking knowhow in Israel today. Yitzhak's dream is to see the Kadesh Valley turn into the most important Appellation of the Israeli wine industry.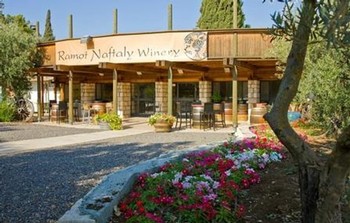 The winery's vineyards are situated in the Kadesh Valley, between Moshav Ramot Naftaly and Moshav Dishon. The vineyards are located at the southern edge of Kadesh Valley, an area surrounded by a high mountainous range that serves as protection from the wind. The rows of vines are planted in deep Terra Rosa soil on moderate slopes, and enjoy the natural drainage, the morning mist and the soft sunrays even in the hottest months of summer.
Boutique winery owners, some of whom also complete the role of vigneron, constantly look for distinctive conditions that will differentiate them from other wineries and growing areas. Everyone grows and produces the traditional leading wine varieties, yet the uniqueness and distinctiveness in wineries is in the development of the grapes, which varies depending on the area of growth. The Ramot Naftaly winery's production vision is to develop, grow and manufacture wines from different varieties that are suited to the Galilee. They grow six grape varieties: Cabernet Sauvignon, Merlot, Shiraz, Petit Verdot, Malbec and Barbera.