February 17, 2015 | Naomi Hochberg
Israeli Wine Tour Day 2: Midbar
Day 2
The first day was a fantastic start to our trip! Unfortunately, the weather on the 2nd day put a bit of a damper but our meeting with Midbar owners Itzhak and Shelly Wolf more than made up for the unusually cold and wet Israeli winter.
We met at their beautiful apartment in Kikar Hamedina, the largest plaza in Tel Aviv with chic stores and quaint cafes. Originally, we were going to travel south to the winery in Arad to see them and vine grower, Eran Raz, but the weather prevented us from doing so. It is unfortunate because they had scheduled for that day a religious ceremony to make the winery kosher. That's right, readers; Midbar Winery will now be producing KOSHER wines! More on that a little later but it is a very exciting announcement.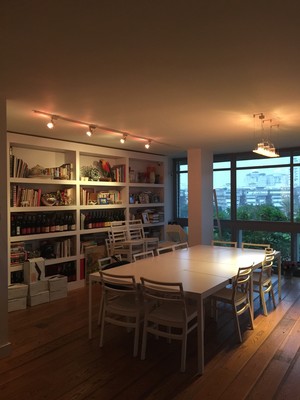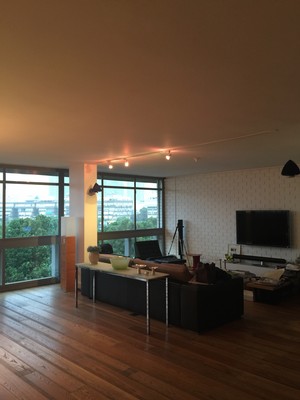 As always with winemakers, wine importers and wine lovers alike, when you have a meeting, you must have some wine; and maybe a little something to eat, too. We started right off with their 2013 Unoaked Chardonnay, which we have never tried before. It was crisp and fruity, with a pale yellow, almost greenish color. Not as tart as the Pelter Unoaked Chardonnay that we already carry, but just as refreshing. Our customers in the States have always enjoyed the white wines we import from Israel so the hunt to find new and delicious white wines is always on!
Next we tried the Viognier; we carry the Midbar White 44 and have sold out of the Southern White, which both contain this special grape, but what we tasted was a 100% Viognier, and we loved it. It was floral and buttery, rich and full bodied yet still dry, so golden in color one would almost think it's a sweet wine, like a Sauterne. The Viognier impressed us, the Midbar blends are all enjoyable but the single varietal wines, which Itzhak explains, he only uses the best grapes for, are truly spectacular. When you realized that the winery is still young, the quality becomes even more impressive and the promise of what to come makes it all the more exciting and enjoyable!
Since the rain hadn't abated yet and it was our only meeting for the day, we indulged in a few more samples of wine, moving on to the reds. The first one was the Red 55, which we unfortunately don't carry, but was remarkable. Asking Itzhak why they chose "55" in the name, he answered that they were looking to create a memorable number with no particular meaning, perhaps only a mystique, like Heinz 57. Back to the 55, it is a blend of Cabernet Sauvignon, Merlot, Petit Verdot and Cabernet Franc. The wine is smooth and subtle, with a light finish. The Wolfs don't like tannin in their wine and that cannot be anymore evident than in the 55. It has a deep garnet color and the bouquet is heady with perfume.
Our last wine was the 2013 Cabernet Sauvignon 800, which we do carry, but the 2012 vintage. According to Itzhak, this is exactly the wine that defines Midbar Winery, "for the good and the bad, its exactly a desert wine". If you tasted the wine, you already know its quality. If you haven't had it yet, do! It tastes of blackberries and pine with a soft, earthy finish.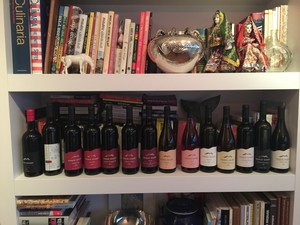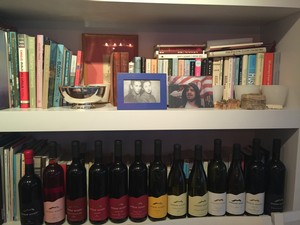 The conversation moves to Midbar's becoming Kosher and what that has meant for the winery. To put it simply, it was done to increase sales, once a winery grows to a certain size in Israel, it makes no sense not to go Kosher. Many people ask if that will have an effect on the quality… it will not! By becoming Kosher, the winery simply needs to be overseen by a Mashgiach, or a religious supervisor. It sounds perhaps a bit less complicated than it really is; but basically once the grapes are harvested, the entire wine production up to shipment, basically, needs to be run by these religious men in order to guarantee Kashrut. The wine maker, Meital Damry, even Itzhak and Shelly, the company's owners, can't taste their wine in the barrels, unless the Mashgiach is there to serve it to them! It's a complicated process for an ancient belief but rest assured, the wine will remain as great as it ever was and with the coming years and the growing experience of those working at Midbar, it will probably get better!