October 29, 2014 |
Zeev Smilansky
Some people own vineyards or wineries because they were born into a winemaking family. Others buy vineyards and start wineries for their love of wine. Still others consider winemaking a profitable venture and pursue winemaking from a business point of view. For us in Meishar Winery, the story is different.

Meishar is a small village, about a 30 minute drive from either Tel-Aviv or Jerusalem, 15 minutes away from the Mediterranean coast and only a couple of miles from the small town of Gedera.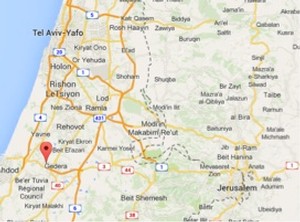 Meishar is a moshav – a type of settlement where the community owns the land and leases it to families. Polish immigrants, mostly holocaust survivors, started Meishar in 1951. At the time, each family received from the government two cows, a few chickens, a donkey and cart and a simple 230 sq. ft. home to start their new life. In those years, this part of Israel was considered wild and remote; in winter, the dirt roads turned to mud, and in summer, the newly made farmers had to deal with scorching heat, thorns and poisonous snakes. In addition to the cows and chickens, the moshav planted a large, commonly owned, citrus orchard. At the time, citrus growing was the main Israeli export; much of the village soil was medium to heavy – just right for citrus. Three of the 60 family farms of Meishar had very sandy soil – too sandy for citrus. These few families received alternate plots to plant their citrus groves.
Nearly forty years later, in 1989, we came to Meishar. By then the country had made much progress, travel was fast and easy, and the number of inhabitants grew to over 7 million. Agriculture was playing a much smaller – an almost negligible part in the national economy, now based on high-tech and other advanced exports. Water was becoming scarcer while wages were growing higher. When we bought the farm in Meishar, the orange groves planted in the early 1950s were still gloriously green as far as the eye could see, but very soon they began to be cut down, until by 2005 they were all gone (today, as recycled water begins to flow in, citrus groves and avocado orchards are beginning to be replanted). The farm we bought was one of the three farms that were considered too sandy for citrus growing. Looking out from the house we bought and renovated (Mr. Klepeter, the previous owner, an architect from Vienna, enlarged it two times – in 1962 from 230 to 400 sq. ft, and in 1968 to 2200 sq ft, adding a large living room and a second floor; we kept the outer structure and re-did the interior) – we saw a plot of about 4 acres, that was probably never cultivated: not by the people of Meishar, since it was considered too sandy; certainly not by anyone before them, since there is no water here for intensive agriculture, except for a few months during the winter. Most probably, these fields were used for grazing by the sheep and goats of the Arabs and Bedouins who lived in nearby villages until 1948; possibly by the crusaders before them; by the Byzantines before them; and without doubt by the Philistines who lived exactly in this area in the famous days of David and Goliath, Samson and Delilah.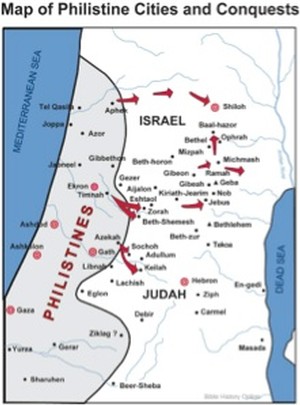 We stood on our new porch and looked at our new, sandy property and wondered what to do with it. Each of us had a full-time job – my wife a teacher, myself a high-tech engineer. We had two little children. Our hands were full, our bank account empty (after buying the farm and making the house habitable). But the land didn't let us turn our back on it. As the bible says: "The Lord God took the man and put him in the Garden of Eden, to work it and take care of it" (Genesis 2, 15). So, even though we are not religious in the orthodox sense of the word, we felt, and still feel, compelled to work the land, with our own hands whenever possible, and take good care of it- and certainly not allow it to lay uncultivated, breeding weeds, thorns and snakes.
Our new piece of land in 1990, in winter (left) and summer (right). Note the old orange groves on the hill across.
There is an additional point. Labor, especially farm labor, and in particular manual labor, plays an important part in my family. My grandfather, Zeev Smilansky, after whom I am named (he died 10 years before I was born), was one of the first Zionists to arrive here, from what is today Ukraine, all of 18 years old, and carrying two books with him – the bible in the proverbial one hand and Tolstoy in the other, determined to create a new, healthy, just and moral Zionist society, a home for Jews who would work the land with their own hands and live by the sweat of their (own) brows. Indeed, he was, by choice, a manual laborer for most of his life, writing learned articles on economy and politics at night, in a tent, with a candle for light, after a hard day of plowing the fields with the mules. He was a member of the Gordonist movement of the "religion of labor", calling for personal liberation through manual labor. Anyone who is interested can (and should) read about these times in "preliminaries", the wonderful semi-fictionalized biography of my father and his parents.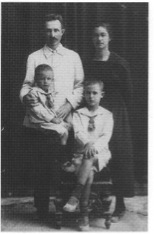 My grandfather Zeev, grandmother Miriam, father Yizhar, aged 3, and his brother Israel, aged 9, in 1919.
So this is how we came to plant a vineyard and start a winery: we had about 4 acres of sandy land, unfit for oranges, which were never properly cultivated. And we felt that we had no choice but to plant and cultivate it. We also had a small hobby of making homemade wine. Some research showed that vineyards needed much less water than oranges – about 150 cubic meters per dunam (1000 sq meters) vs. 850 for oranges; That vines are very sturdy; that they are grafted, so you can select the rootstock according to the soil type, and the scion according to the grape type – cabernet, merlot, shiraz etc. Thus, in 1992, we planted the first plot of Cabernet, with "saltcreek" rootstock that is most fit for sandy soils. Our unique sandy soil allows the roots of our vines to be 30 feet deep that most years require no irrigation thus producing small quantities of unique and very special tasting wines.
Israeli Wine Direct is our exclusive importer in the United States and is proud to offer you four of our top wines and in conjunction with this blog a 10% discount good through November 10th.
The vineyard in February My two sons - Ofer (left) and Shaul (right) in the vineyard.
Our wines – purchase at: http://www.israeliwinedirect.com/products/brand/Meishar

Meishar #41 – 2008 - A blend of Shiraz, Cabernet with some Merlot, this well rounded wine has medium body, with strong aromas of ripe purple fruits and bright flowers with a hint of forest berries. In the mouth the Shiraz is strongly felt with layers upon layers of fruit with a hint of herbs and toasted nuts. Goes well with any accompaniment - beef, pasta, hearty soups, and cheese. Ready to drink but can keep until 2016.

Meishar Merlot (2009) - Medium to dark ruby in the glass, aromas of green herbs and lush fruit with a hint of spices. In the mouth the wine opens to layers of red berries and stony minerals. Long finish. Excellent with spicy foods, light meats, spicy cheese and dark chocolate. Ready to drink but can improve until 2018.
Meishar Vinyard 730 (2010) - The flagship of Meishar Winery, not made each year. 100% Cabernet Sauvignon, medium to dark garnet in the glass, aromas of toasted spices, characteristic licorice and cedar aromas. In the mouth exceptional spices, red berries, pepper, and wet forest floor. Exceptionally powerful and balanced. Ready to drink now but will definitely mature well until 2020 at least.

Meishar "Goliath" (2010) - A unique blend of Shiraz, Cabernet and Merlot, made only in exceptional vintages. Medium body and medium to dark garnet in the glass. Aromas of black berries and smoky toasted spices give way to chocolate and tobacco. In the mouth spices, ripe purple fruit, pepper, rich spicy fruitcake and wet forest floor. Wonderfully balanced. Ready to drink now but will mature well until 2025.