February 9, 2015 |
Naomi Hochberg
Day 1
We landed in Israel and immediately hit the ground running. The morning after we arrived, we had a meeting with Margalit Winery. Still groggy from jetlag, we started our trip with a brief tour of the winery with winemaker Asaf Margalit.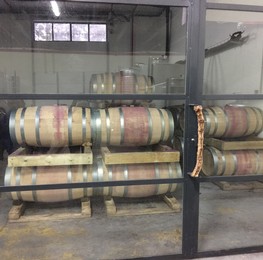 Margalit Winery and barrel rooms
He showed us their beautiful barrel room before taking us upstairs to a cozy tasting room. We started talk about Margalit wines, one of the biggest cult wineries in Israel. Shortly before opening the first bottle, we were joined by Yair, Asaf's father, founder and master winemaker at Margalit. Yair could probably be the man credited with starting the boutique winery movement in Israel. A chemist in training, he holds a PhD in physical chemistry, which brought him to California U.C. Davis as a visiting research professor. It was there that his love of wines was, for a better term, cultivated. That was thirty years ago. He went on to be Tishbi Winery's first winemaker before founding Margalit Winery in 1989. Aside from producing some of the best wines Israel has to offer, he has written not just one but two leading books in wine technology, chemistry and production. If you want to read up more on Yair and his background, read this excellent article written last summer in the Jerusalem Post HERE.
Back to our tasting. Never mind breakfast (although there was a beautiful spread of freshly cut vegetables, burekas, cheese and bread, lets have some fruit salad! Ok ok, by fruit salad, we mean wine. Who says we can't mix business with pleasure?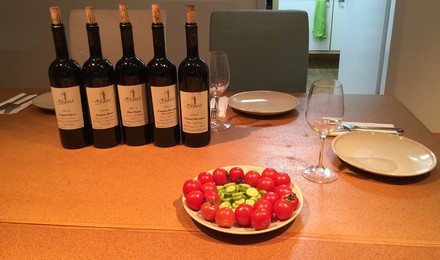 Array of wines and food
We try the Merlot, which will be a new wine for us to carry this coming spring. It is a perfect Merlot, full of those quintessential cherry, tobacco and chocolaty flavors. Beautifully balanced, easy tannin & rich, this will please all of our red wine-loving customers.
Next we move on to the Cabernet Sauvignon and the Cabernet Special Reserve, two of their signature wines. Many of our customers will already be familiar with the amazing quality of these wines. They are outstanding, perhaps the two wines that Margalit is best known for.
We try a few more wines, a Petit Verdot that is an in house wine only. It has that characteristically grapey, vanilla and spice flavor one expects to find in Petit Verdot, albeit very tannic, which is why they decided not to put it on the market.
Lastly, we try an experiment of the winery, a rose! Now, we carry 3 roses from 3 different superb wineries and are always excited to try more. Sure, they may be considered the fluff of wine, but when it's hot out, there's nothing like opening a bottle of crisp rose. Yair explains that they have made a rose that they believe to be exactly what a rose should taste like. We have to agree; it is very good. Crisp! That's definitely the first word. It was approaching the end of fermentation so there was a slight carbonation to the wine, which made it no less enjoyable. It was fresh, lively, and springy, with grassy and strawberry notes. Will they put it on the market? Let's hope so!
Arie Hochberg, IWD Principal and Asaf Margalit, Winemaker
We take our leave of the Margalits. The weather appeared to be getting hazier, there was a storm forecasted, or maybe it was just the wine…
We have one more appointment scheduled for the day at Somek winery, with vintner and Zichron Yaakov native, owner of Somek Winery, Barak Dahan. In fact, Barak isn't just a native, he is the fifth generation of his family to be living in Zichron Yaakov and the family has been tending the same vineyards all that time! In fact, the vineyard Barak still cultivates is the same land, albeit a bit more has been accumulated over the years, that Baron de Rothschild gave to his family over a century ago!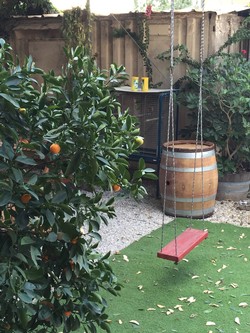 Backyard of Somek Winery
For those who know wine in Israel, the town may be familiar to you, because it came under the patronage of Baron de Rothschild in 1883, when he came to Israel to survey land for agriculture, particularly vineyards. He founded a winery in the Carmel Mountains and set up a bottling plant in Zichron Yaacov, the town was renamed in memory Rotheschild's father, James ("Ya'acov) and in 1954, Baron de Rothschild's remains were reinterred close to the town.
The Dahan family cultivated their land and sold the grapes to wineries for decades. Finally, ten years ago, Barak and his wife, Hila, decided to expand upon their knowledge and begin making their own wine. Hila then went on to study viticulture and oenology at the University of Adelaide, in Australia. A decade later, their winery has grown, along with their knowledge.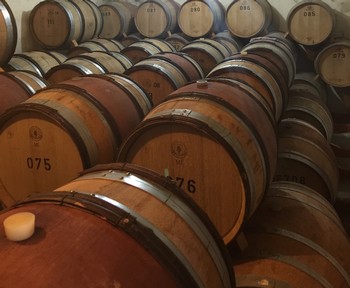 New barrels and wine presser; barrel room
We carry several labels by them, all of them fantastic, one of the most notable, perhaps, is their Carignan, a beautiful wine with a wonderful, round texture, firm tannins, and ripe fruits. Another wine that is perhaps less popular, though no less delicious, is the Bikat Hanadiv. In Hebrew it means "blessings of the righteous man", Barak's and Hila's praise of Rothschild. It is a blended wine of 50% Cabernet Sauvignon, 30% Merlot, 15% Cabernet Franc and 5% Petit Verdot and was so named because it is reminiscent of the famous Chateau Lafite.
Barak and Hila are have become very knowledgeable winemakers indeed, they are gaining recognition, and rightly so, for the wines they are producing. A year ago, the Jewish Daily Forward wrote a wonderful article, linked HERE, on the Dahans and their wines. Currently, they are even expanding on what they know and are starting to make new wines, one of which, a chardonnay, we were very excited to try. We sit in the newly built, lovely tasting room and sip the sample Barak has brought for us. Like the rose from Margalit, it is still undergoing fermentation, so it also has slight carbonation that will eventually dissipate. The wine will be slightly oaked, to round out the burst of citrus, and will be just as superb as his other wines.
The day is getting a bit more precarious. The chickens in Barak's coop seem to understand that there is a storm coming. Wintertime in Israel is no joke! As we leave the winery, the gusts of wind almost force us back inside. Sad to go, Barak is so inviting and generous with his time and explanations, the conversation was endless and could have gone on longer, we take our leave, excited by all we have learned and tasted in the first day alone! What a successful start to our winery tour, the excitement would not let up, regardless of how much the weather tried to dampen it!
Arie Hochberg and Barak Dahan