April 8, 2014 |
Naomi Hochberg
Cabernet Sauvignon
---
---
We're back! It's been a while since our last blog posting and we've missed you all! To kick off our new, revamped blog, we decided to bring you examples of our different kind of wines. Each week, we will highlight a different varietal, explaining the aromas and flavors of each grape. We will discuss the appellation, oenology and viticulture, the growing and harvesting, as well as the individual vintners. This week, we're bringing to you our Cabernet Sauvignon wines. It is one of the most recognized and frequently used grapes and is grown all over the world from established European winemakers to New World explorers.
To start off, here's a bit of history about the Cabernet grape. Despite its popularity, Cabernet Sauvignon is a relatively recent grape, the first production of it being in the 17th century in the southwest France, when winemakers crossbred the Cabernet Franc grape with that of the Sauvignon Blanc. The result was a hardy grape, able to withstand harsh temperatures and grow at many different elevations, has thick skin and produces a high yield with the proper vine-trimming and maintenance.
No matter where you grow the Cabernet grape, be it at high or low altitude, limestone gravel or rich terra rossa soil, the wine consistently maintains a distinct "Cabernet" quality of full-body, high tannins, and an apparent acidity. The notes of the wine may vary depending on the temperature of the region. In cooler regions, the wine will taste of blackberries, mint, and cedar, sometimes even vegetable-y. In warmer climates, the wine will become denser, more fruity or "jammy". All of these qualities are found in our wineries, which range from the cool, mountainous regions of the north to the arid desert of the south.
---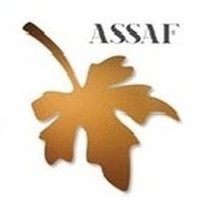 Assaf Winery
In 1990, the Kedem family planted vineyards in and around their home at Moshav Kidmat Tsvi to establish the Assaf Winery. Production of wine started in 1997. In 2011, they produced about 43,000 bottles of award-winning wines. They grow seven different types of grapes from dark Cabernets to blushing Zinfandels. Assaf Kedem, the Vintner and master Winemaker, personally tends to every vineyard. The winery is equipped with the latest state-of-the-art equipment including an on-site laboratory that provides inspection services for the Assaf Winery and other boutique wineries in the area. The barrel room contains more than 150 barrels where the wine ages, matures, and takes on its wonderful taste and fragrance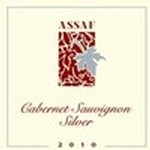 Assaf Cabernet Sauvignon Silver
This wine is unfiltered or "unfined", meaning it maintains the cloudy appearance typically filtered out to create a clear color consumers tend to prefer. Filtering is also done to remove unstable tannins, which may undesirably alter the flavor of the wine with time. However, wine such as this are becoming more popular as they are considered more "natural". It has a deep, dark burgundy color with a lush, complex taste of black cherries, forest berries, tobacco, eucalyptus, and a hint of mint. Its slight acidity is balanced with a rich, long-lasting, pleasant aftertaste.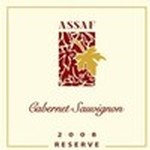 Assaf Cabernet Sauvignon Reserve
The wine is aged for 18 months in oak barrels and bottled, like the Silver, without undergoing filtration. Assaf's leading brand is a blend of two varieties of grape grown in two different vineyards. Vineyard Gimel brings the scent of eucalyptus and berries. Vineyard Bet, provides a delicate infusion of aromatic spices. The Cabernet Sauvignon Reserve mingles the characteristic hints of blackberry, cherry, and eucalyptus with subtle overtones of mint and berries.
Assaf with his wines
---
Kitron Winery
At the Kitron winery all stays in the family. Meir Biton and his wife and 8 children run all aspects of the business.
The winery is in transition, with a new gravitational winery being built in the Lower Galilee. A gravitational winery uses gravity-flow, a system where pumps and conveyors in transporting the grapes into the fermentation tank is replaced by constructing a multilevel facility, typically on a hill, that allow the grapes to flow naturally downward with platforms at each step for crushing, fermentation, barreling then bottling. This is a gentler and some say, purer way of winemaking.
http://blog.winecollective.ca/2013/07/12/gravity-flow-winemaking/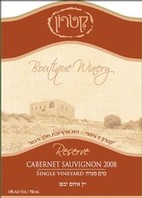 Kitron Cabernet Sauvignon
This powerful but well balanced wine is characterized by dark berries and smoked vanilla aromas. The palate is round and flattering with hints of jam and mocha.
IWD principles, Agnes, Meir, Arie with Winemaker, Meir (second from left)
---
Margalit Winery
Margalit Winery is a family owned winery founded in 1989. The owners and winemakers of Margalit Winery, Yair Margalit and his son Asaf Margalit, have a special interest in Bordeaux varieties (Cabernet-Sauvignon, Merlot and Cabernet-Franc) and therefore the winery focuses on producing those red wines.
After many years of experimentation in quality wine making using various varieties, and distributing the wines amongst friends, Margalit Winery was launched in 1991 with its first Cabernet Sauvignon (1989 vintage). The public interest in the new winery grew quickly in the next few years, probably because of two reasons: it was the first boutique winery in Israel and secondly, because of the wine's quality and uniqueness. Initially, the winery was established in a small village near the town of Rehovot. In 1994 the winery moved to its current location not far from the Mediterranean shore, midway between Tel Aviv and Haifa. The production grew gradually from 80 cases in 1989 vintage, to the current annual production of about 1,600 cases. A portion of the wine produced, is sold at the winery directly to private customers in three weekends during March/April each year. The customers are invited to taste and buy the new release. The rest of the wine is distributed to fine restaurants and wine shops in Israel and abroad.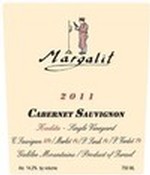 Margalit Cabernet Sauvignon
This wine has a deep garnet toward inky black remarkably concentrated and intense, still firmly tannic but with fine balance and structure yet still offers a generous mouthful of currant, cherry, blackberry and plums. It is big, broad and intense but is yielding on the palate to show grace and elegance and closes with a hint of espresso coffee for a super long finish. Named by Israeli food & wine critic Daniel Rogov as one of the best Israeli wines he tasted!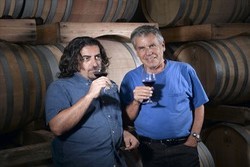 Yair and Assaf sampling their wines
---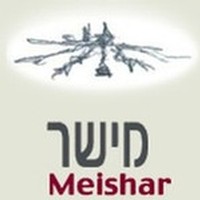 Meishar Winery
Located near Gedera, at 58 meters above the Mediterranean Sea, which is just 30 miles away, on an unassuming plot of sand and gravel are vineyards that aim to challenge those grown in France, Spain and Napa. "And how come the wine is so good?" Zeev Smilansky, the winemaker says, "We don't really know. Perhaps because of the special rootstock – 'Saltcreek', particularly suitable for sandy soils, being resistant to nematodes. Or perhaps because of the small gravely hill nearby. Or perhaps because the vineyard is hardly being watered – in spite of the evil summers in this region – since its roots go down five, perhaps even ten meters deep. Or perhaps because of the way we work it – or perhaps because of love – or maybe just luck. This way or another, this little vineyard – ¾ of an acre Cabernet Sauvignon, ¾ Merlot, and ¾ Shiraz – produces prime fruit, creating wines that we can be proud of, year after year, in spite of the theories. We do all the work ourselves, planting, trellising, training, pruning, and irrigation, weeding, harvesting, crushing, fermenting, aging, bottling, and even the design of the bottles and labels – all done by our family members."
Meishar Vinyard 730
The flagship of Meishar Winery, not made each year. 100% Cabernet Sauvignon, medium to dark garnet in the glass, aromas of toasted spices, characteristic licorice and cedar aromas. In the mouth exceptional spices, red berries, pepper, and wet forest floor. Exceptionally powerful and balanced. Ready to drink now but will definitely mature well until 2020 at least.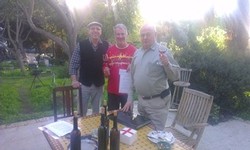 Our principals, Arie and Mayer with Winemaker Zeev
---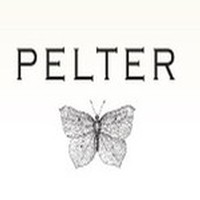 Pelter Winery
Pelter Winery, situated in the Golan Heights of northern Israel, was established by Tal Pelter in 2005. In 2001, Tal returned from oenology studies in Western Australia where he was influenced by the local approach to winemaking and the Australian character of the wines. Wine is part of the fabric of everyday life in Australia - an affordable and accessible source of enjoyment. Tal wanted to introduce this approach to the Israeli market as well as to create high quality, premium wines. The Golan Region is characterized by: cold dry climate, day/night temperature differentials, basalt soil, high altitude, and high levels of sun radiation. Together these factors create slow, long ripening, a variety of taste depths and high quality grapes. These advantages were enhanced by the open spaces so rare in Israel, and the Golan Heights was selected as the ideal location for both the business and the family. All stages of production are handled by members of the family – from selection of grapes, barrels and blends, to bottling, marketing and distribution. These collaborative efforts produced some 80,000 bottles in 2008, while preserving the winery's rustic, intimate character.
Pelter T-Series Cabernet Sauvignon
The grapes were harvested from the Vineyard of the Wind, Merom Golan. The wine matured for 20 months in French Oak barrels. Characterized by tastes of wild blackberries and a touch of chocolate and mint. A long and rich finish.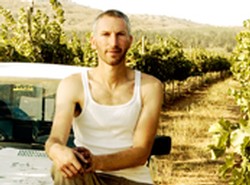 Tal Pelter
---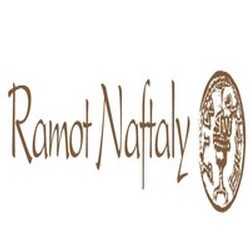 Ramot Naftaly Winery
The winery was established in 2003, is located in the Upper Galilee in Moshav Ramot Naftaly from which it derives its name and produces about 10,000 bottles per year and plan to grow. The wines are kosher since the 2009 vintage.
Yitzhak Cohen is a very proud winemaker who started as a farmer and administrator of agriculture cooperatives of the region to winemaking by experimenting and learning winemaking in Israel. His excellent skills and high quality wine is an evidence to the high level winemaking knowhow advanced in Israel today. Yitzhak's dream is to see the Kedesh Valley turn into the most important Appellation of the Israeli wine industry.
The winery's vineyards are situated in Kedesh Valley, between Moshav Ramot Naftaly and Moshav Dishon. The vineyards are located at the southern edge of Kedesh Valley, an area surrounded by a high mountainous range that serves as protection from the wind. The rows of vines are planted in deep Terra Rosa soil on moderate slopes, and enjoy the natural drainage, the morning mist and the soft sunrays even in the hottest months of summer.
Boutique winery owners, some of whom also complete the role of vigneron, constantly look for distinctive conditions that will differentiate them from other wineries and growing areas. Everyone grows and produces the traditional leading wine varieties, yet the uniqueness and distinctiveness in wineries is in the development of the grapes, which varies depending on the area of growth. The Ramot Naftaly winery's production vision is to develop, grow and manufacture wines from different varieties that are suited to the Galilee. They grow six grape varieties: Cabernet Sauvignon, Merlot, Shiraz, Petit Verdot, Malbec and Barbera.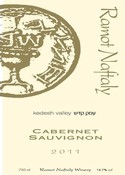 Ramot Naftaly Cabernet Sauvignon
The unique location of the vineyard is highly beneficial in the wine-making process. The rich and fertile soil and special climate conditions of the Kedesh Valley give the grapes their color, flavor that transfer their characteristics to this rich flavor and bouquet wine.

Ramot Naftaly Cabernet Sauvignon Special Edition
Aged in French oak barrels for 12 months. The wine is a clear-pale Bordeaux with a full aroma of red and purple fruit as well as some greenery. This wine is full-bodied and rounded, with soft tanins complete with ripe, juicy black fruit with a layer of sweet spices on the finish.
---
---
To buy any of these wines, click here!