February 19, 2015 | Naomi Hochberg
Israeli Wine Tour Day 3: Kitron & Kishor
Day 3
We're on to Day 3! So far, we have stayed in and around the Tel Aviv area. Today, we travel north! As a special treat, our IWD Israeli Representative, Tamir Ronen, who is our eyes, ears and taste buds on the ground in Israel, joins us today!
Tamir lives in the Moshav Mei Ami, just across the road from the Arab city Umm Al-Fahm. We pick up Tamir, have a quick cup of cappuccino (Israelis love their cappuccinos), and head to meet Meir Biton from Kitron Winery, at his home in the religious communal settlement Hoshaya.
The Kitron Winery is located in Netanya however they are currently building a new gravitational winery in the Lower Galilee. A gravitational winery, or "gravity flow" is typically built on multiple tiers, each tier for a different phase in the winemaking. This allows the wine to flow naturally, which enables the wine to preserve as much color and flavor as possible, rather than pushing the wine with air and pumps. Meir studied this kind of winemaking in Burgundy and in Sonoma and it will be the first and only one of its kind in Israel.
Image from: http://blog.winecollective.ca/wp-content/uploads/2013/07/GravityFlowProcess.jpg
We took our leave of Meir and his lovely home and headed to a meeting we were all particularly excited for because it will be a new winery for Israeli Wine Direct to represent this coming spring!
That's right, we are proud to announce the newest member to the IWD portfolio: Kishor Winery! We are thrilled to bring you these new and excellent wines NOT only because of their outstanding quality NOT only because they are kosher and will be our 2 first KOSHER white wines but because the people and the story of Kishor is remarkable and is one we are proud to be a part of.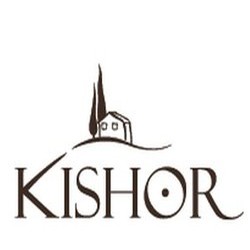 Kishor winery is located in the Western Galilee, nestled within beautiful rolling hills, a part of the Kishorit community, a home for a adults with special needs. Five of the members of Kishorit work permanently in the vineyards and winery, while more members come on to work during the heavy production season. All workers take part in every aspect of wine production, from grape cultivation and vineyard management to wine making, bottling, and marketing, and are managed by Richard Davis, a South African viticulturist and winemaker as well as Itay Lahat, oenologist and wine expert.
We arrived at the Visitor's Center, a beautiful and modern building, recently finished, and were greeted by Richard Davis and Yair Una, head of marketing and sales, as well as Yaron Biran, a member of the community who works in the vineyard and winery. Yaron brings us a selection of cheeses, breads and vegetables, all grown, made and baked in Kishorit. If you get a chance to visit this magical place you MUST try the food! Perhaps the best spread of our tour!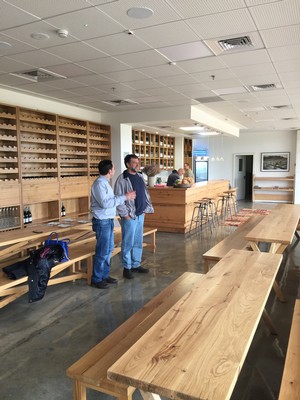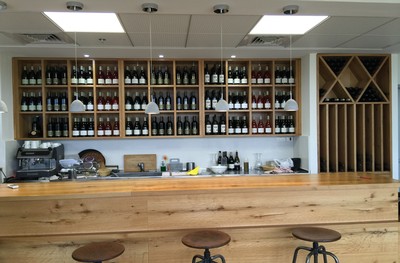 Keep in mind that the vineyards were only planted in 2007. They harvest their first grapes only in 2010 and the permanent winery was finished only in 2013 so this is a baby winery, in its toddler years, but the wines they make are far more mature than their age! First production yielded 9,000 bottles; by 2013 they had grown to making 34,000 bottles and are seeing a future of over 55,000 bottles so their growth is exponential!
To the wine! Their vineyards are terra rosa and limestone and the unique micro-climate of the region helps them grow grapes of excellent quality. Of the grapes they grow, 7 are red (Cabernet Sauvignon, Cabernet Franc, Petit Verdot, Merlot, Syrah, Grenache and Mourvedre) and 3 are white (Sauvignon Blanc, Viognier and Riesling). They have just started to bottle the Syrah and next year will begin with the Mourvedre and Grenache.
We will carry 4 of their wines: Kerem Kishor White (blend of Sauvignon Blanc and Viognier), Savant Viogner (100% Viognier), Kerem Kishor Red and Savant Red (both blends of Cabernet Sauvignon, Cabernet Franc and Petit Verdot).
Now the moment you (and we) have all been waiting for: the tasting! The first we try is the Kishor White 2013. It is a dry wine, well balanced, expertly made; drinkable, highly enjoyable.
Next we try their Riesling, which we don't carry as of yet. We tasted the 2012, which was one of the last bottles from that vintage, but Richard remarked that with each year, their Rieslings are getting better and better. What we tried was still a very good Riesling. It was sweet and fruity with a nice dry finish that kept the wine from being too sugary. It had a slight petrol odor to it which sounds much more unpleasant than it actually was. The wine was excellent! Could easily last another 10+ years.
Richard indulged us next with trying their Rose. Made from 100% Merlot grapes, which are grown specifically for making this rose, it had a beautifully salmon-orange tinge to it. The wine is crisp with a good acidity and a refreshing bouquet, a result of early picking.
Next, we moved on to the reds with the Kerem Kishor Red; a dry medium-light bodied wine with a smooth, long finish that isn't tannic. It is a wine that can be easily had now but will age well over the next 5-8 years.
Lastly, we tried the Savant Red, a similar blend to the Kerem Kishor Red, made from Cabernet Sauvignon, Cabernet Franc and Petit Verdot, it has a greater, almost entirely quantity of Cabernet Franc. As such, it is light and peppery with a hint of raspberries. It will be a wine that shall be greatly enjoyed by our customers, it's that good!
After chatting for over three hours with Richard and Yair, we took our leave, elated to have tried these outstanding wines and to have met these impressive people. And excited to be bringing these wines here to the States; we hope you are, too!